Helping vulnerable youngsters
Tina Kaspersen is psykoterapeut at the Danish TUBA organisation
With the Dialoogle cards Tina Kaspersen helps vulnerable youngsters from families with a history of alcohol or drug abuse to get on with their lives.
Tina Kaspersen is a psychotherapist at the Danish TUBA organisation, which provides therapy for young people, aged 14 to 35, from families with a history of alcohol and drug abuse.
"I use Dialoogle for one-on-one and group therapy. The cards work well, especially with our teenagers. They have always been anxious about their addicted family members. They are not used to reflecting on how they feel themselves, and they are not used to being listened to," says Tina.
"One teenager described herself with a picture of a lonely skier striving in a harsh terrain towards a mountain peak. Instead of describing her daily life to me, she was able to give me a fairly precise impression of how she felt with just one picture and a few words: she was struggling towards a distant goal, trying to overcome all the obstacles on her way."
When Tina asks the youngsters to pick a card that describes what they are concerned about, they often find it quickly and start talking about practical challenges relating to their studies, their housing situation or their finances.
The pictures give me as a psychotherapist a good impression of how these young people feel, and usually it is a great relief for them to be able to express themselves.
Thus one of Tina's youngsters chose the picture of a marble bust of a man with a halo around his head and began to enumerate all the many practical things she had to do.
"I praised her for her fine reflections and challenged her further by asking what she would find if she smashed the bust with a hammer."
The girl thought about it for a while. Then she chose a picture of a tiny dishevelled and timid-looking puppy and began to explain how she felt; she missed being cared for, to be picked up and cuddled, and to have someone to look after her.
"The pictures give me a good impression of how these young people feel, and usually it is a great relief for them to be able to express themselves because it is so hard for them to look inward and reflect, even if they are motivated. – Often I hear them say that they thought they knew how they felt but that the pictures give them new insights and help them to understand themselves better."
"Many picture tools can be used in talking therapy. But most of them define which pictures to use, for instance in talks about strengths, fears or hopes. Dialoogle does not have this limitation. Instead, people can choose freely among all picture cards, and this makes it is easier for them to find cards that talk to them."
Brain
90% of the brain's sensory input comes from visual sources. Images start thought tracks in the brain. If they cross each other in new combinations, new ideas emerge.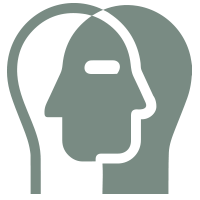 Empathy
Dialoogle picture cards can make it easier to empathise with others and understand their feelings.
Motivation
With Dialoogle picture cards we can identify and describe our motivation. With the right motivation, we can achieve almost anything.