Conclusions Everyone Remembers
Charlotte Knagh Trojahn is a study and career advisor at The Royal School of Library and Information Science
Gathering important conclusions and making them easy to remember and use is in the DNA of The Royal School of Library and Information Science (RSLIS) in Copenhagen. The same can be said for Charlotte Knagh Trojahn. She uses Dialoogle in her work as a study and career advisor at RSLIS.
The five career advisors at RSLIS held a seminar in order to plan the activities of the fall semester and prepare for guiding and supporting the students in the best way possible.
The two-day seminar included a lot of external speakers, meetings, and discussions. As a way of rounding off the seminar, participants summed up by asking each other: "What is the most important thing we have learned from this seminar?"
"If we had taken turns answering the question, we would have ended up with a number of summaries of the seminar. Instead, we laid out a set of Magnum cards on the floor and each of us chose one card to symbolise the most useful conclusion from the seminar," Charlotte explains.
It is easy to focusing on different details in the image and find another important conclusion.
"If one of us presented a conclusion that others had thought about mentioning, we had to think of another important conclusion and present it by looking at our card from a different perspective and focusing on different details in the image. This is easy to do with the Dialoogle cards. In this way, we ended up with five important conclusions illustrated by images, which helped us remember them."
The implementation of the new Study Progress Reform at Danish universities had been discussed extensively at the seminar. This caused one of the participants to choose a card with a picture of a skyscraper to illustrate one of the most important aspects of being a career advisor:
"We are in a position where we have an overview that others do not have. We see things before others do. This reform will have unintended consequences to some students, and we will be the first to hear about them when students come to us. This is why it is so important that we take it upon ourselves to quickly inform the relevant bodies of these consequences."
The career advisors at RSLIS have done so. One tangible result is that changes have been made to inappropriate forms of examination and rules concerning maternity leave.
840 picture cards
7 pcs. Magnum Set (19x19 cm)

7 pcs. Pocket Set (9x9 cm)

21 exercises in a eBook (PDF)
120 picture cards
1 pcs. Magnum Set (19x19 cm)
1 pcs. Pocket Set (9x9 cm)
21 exercises in an eBook (PDF)
Brain
90% of the brain's sensory input comes from visual sources. Images start thought tracks in the brain. If they cross each other in new combinations, new ideas emerge.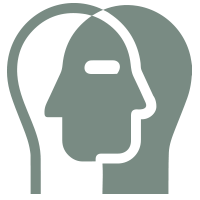 Empathy
Dialoogle picture cards can make it easier to empathise with others and understand their feelings.
Motivation
With Dialoogle picture cards we can identify and describe our motivation. With the right motivation, we can achieve almost anything.