Better Management – and the Blank Card Trick
Toril Nygreen Grave is a coach and owner of TNG Coaching
Toril Nygreen Grave is a human resource management specialist in Oslo. A while ago she was given a challenge by the management team at one of her corporate clients: "Help us! We are having problems in our cooperation and communication! We want to give each other energy and support but we are experiencing the opposite!"
Using Dialoogle picture cards Toril guided the challenged management team through a two-hour session in order to get to the bottom of their problems and help them on the track towards greater job satisfaction and better business results.
Toril asked the nine managers to select a card each that reflected their role – voluntary or involuntary – in the management team. Eight of them quickly found a card. But the CFO could not find an image that he felt reflected his situation.
Toril had seen this before so she knew what to do. She gave the man a blank card and a pen and said:" Make your own picture!"
The CFO quickly drew a vending machine. "I feel like an automat and I don't like it. I feel like my colleagues come to me and think that if they press a button I will deliver the report they want. They don't know what my job consists of, they aren't interested, and they don't understand that I can't just drop what I'm doing to do what they want me to."
It turned out that several of his colleagues felt the same and were unhappy with their role in the management team. One of them had chosen a picture of a locomotive because he felt that all progress depended on him.
The Dialoogle picture cards facilitated a conversation that the team had not previously had. Not because those who were unhappy had not spoken up. But the team had failed to understand the reasons why they were not performing well until the issues were illustrated by images. Now everyone understood and was ready to take action. During the two following rounds of the Dialoogle exercise, the participants defined their desired role in the team, and how they and their colleagues could make sure that everyone could be allowed to perform optimally and become satisfied with their job.
A month later the management team reported back to Toril: "We are happy with our roles in the team, and we take responsibility for each other."
Toril explains that the blank card trick also works well if a participant is sceptical about the image dialogue or has not yet understood that it is symbolism and not specific pictures that triggers useful communication and understanding.
840 picture cards
7 pcs. Magnum Set (19x19 cm)

7 pcs. Pocket Set (9x9 cm)

21 exercises in a eBook (PDF)
120 picture cards
1 pcs. Magnum Set (19x19 cm)
1 pcs. Pocket Set (9x9 cm)
21 exercises in an eBook (PDF)
Brain
90% of the brain's sensory input comes from visual sources. Images start thought tracks in the brain. If they cross each other in new combinations, new ideas emerge.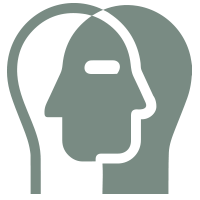 Empathy
Dialoogle picture cards can make it easier to empathise with others and understand their feelings.
Motivation
With Dialoogle picture cards we can identify and describe our motivation. With the right motivation, we can achieve almost anything.