Become a Role Model to Yourself and Others
Martin Anker Wiedemann is a development consultant at persolog® Denmark
Martin Anker Wiedemann is a consultant and managing director at persolog® Denmark. He uses Dialoogle to help people develop their personal and social competences and become super heroes.
Martin Anker Wiedemann is a development consultant and managing director at persolog® Denmark. He specialises in helping people develop personal and social competences; in Martin's words, he runs a Super Hero academy.
Using internationally recognised tools for management and learning such as DISK, persolog® develops organisations through their employees, and certifies consultants in working with profiling tools.
"Our learning tools help us grasp what colleagues and managers expect from us, and Dialoogle makes our tools even more valuable because the picture cards can put our own expectations into perspective. If we can succeed in making both others and ourselves happy, we are close to becoming super heroes," says Martin Wiedemann.
"Dialoogle picture cards are creative and easy to use. They offer variety, and people think they are fun. My personal profiles get beter when I use the cards – especially when I give people a random card that means nothing to them to begin with. Even a full ashtray can become a useful metafor."
Martin calls the experiences that Dialoogle can give the people he teaches, certifies and develops 'into-the-body'  experiences.
"The cards are excellent for exploring your emotions in order to reach an emotional self-recognition and self-understanding."
As an example Martin mentions a networking meeting where a participant had talked for 5-8 minutes based on a Dialoogle picture card and subsequently exclaimed:" I have never been able to talk for so long about myself and my company before!"
The participants in Martin's job interview training for unemployed also appreciate the Dialoogle cards. A sixty-year-old participant even asked permission to take the cards home with him in order to rehearse for an upcoming  job interview and have his chosen images fresh in his mind.
"It is not always easy finding a new job when you are sixty years old; this guy got a strong enough sense of his strengths to not accept the job offer right away, but asked for time to think it over. It was brilliant," says Martin.
840 picture cards
7 pcs. Magnum Set (19x19 cm)

7 pcs. Pocket Set (9x9 cm)

21 exercises in a eBook (PDF)
120 picture cards
1 pcs. Magnum Set (19x19 cm)
1 pcs. Pocket Set (9x9 cm)
21 exercises in an eBook (PDF)
Brain
90% of the brain's sensory input comes from visual sources. Images start thought tracks in the brain. If they cross each other in new combinations, new ideas emerge.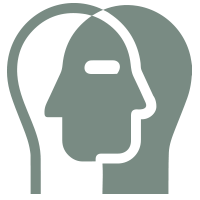 Empathy
Dialoogle picture cards can make it easier to empathise with others and understand their feelings.
Motivation
With Dialoogle picture cards we can identify and describe our motivation. With the right motivation, we can achieve almost anything.