A way out of loneliness
Rita Jeppesen is a voluntary Activity Manager at Red Cross
Adult loneliness is a taboo, and the Danish Red Cross tries to break it in networking groups. Rita Jeppesen employs Dialoogle to boost the sense of confidence, togetherness and friendship in her groups.
More than 200,000 Danes suffer from prolonged loneliness as a result of a divorce, the death of a close relative or partner, job loss or illness.
Feeling lonely for a long time makes it difficult to build and maintain personal relations. A simple conversation feels awkward, and it is hard to hold on to friendships and make new ones, not to mention finding a partner. Eventually, loneliness may have fatal consequences.
Rita Jeppesen is a voluntary Activity Manager of a number of Red Cross networking groups in the town of Slagelse. Their purpose is to help lonely 30-60 year olds build and maintain social relations.
"Our networking groups comprise 10-12 people who lack self confidence and self esteem and feel discarded and not loved. This means that even joining a Red Cross group requires lot from each of them," says Rita.
"One participant considered dropping out after the first meeting because she felt she didn't belong in the group. This made me realise that I had to make people work together from the very start in order for them to lean to relax and feel comfortable with each other."
Dialoogle is one of the tools that Rita is using in her work. She starts by laying out a set of Magnum cards on the floor and asking people to choose a card that says something about what loneliness looks like.
"Feelings are difficult to talk about. It often takes a long time for people to find a card. Typically they choose images of people or things without life around them – on a beach, in a landscape, on a road, or at sea."
The pictures help them verbalise their pain, and their confidence grows as they experience the sense of an equal community.
"Then I ask them to find a picture card that says something about how loneliness feels," says Rita and adds that she will also try to use the cards to help participants express what they feel when they listen to their favourite music, which is another catalyst for feelings.
"These people find it particularly difficult to talk about their painful feelings in front of a large group. In my experience, it's easier for them to feel comfortable in groups of two or three for starters. The pictures help them verbalise their pain, and their confidence grows as they experience the sense of an equal community."
After the initial talks about the aspects of loneliness, Rita introduces goal cards. The goals chosen are typically 'more confidence' or 'greater self-esteem'. Picture cards form the basis for talks in which each participant gets inspiration to handle or break their loneliness.
Even though Rita's networking groups are fairly new, they have already produced good results. For instance, the first group still meets for brunch every Sunday. Two participants flourished and became sweethearts. And one is now a volunteer at the Red Cross.
Today Red Cross networking groups exist in 25 towns and cities in Denmark.
840 picture cards
7 pcs. Magnum Set (19x19 cm)

7 pcs. Pocket Set (9x9 cm)

21 exercises in a eBook (PDF)
120 picture cards
1 pcs. Magnum Set (19x19 cm)
1 pcs. Pocket Set (9x9 cm)
21 exercises in an eBook (PDF)
Brain
90% of the brain's sensory input comes from visual sources. Images start thought tracks in the brain. If they cross each other in new combinations, new ideas emerge.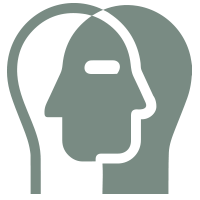 Empathy
Dialoogle picture cards can make it easier to empathise with others and understand their feelings.
Motivation
With Dialoogle picture cards we can identify and describe our motivation. With the right motivation, we can achieve almost anything.